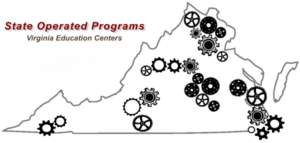 State Operated Programs is a division within the Virginia Department of Education that has been given the responsibility to educate children in state-supported juvenile detention centers, mental health facilities and children's hospitals in Virginia. We operate over 30 individual education centers across the state of Virginia and employ over 300 staff and certified educators. In one school year, we see more than 8,000 students come in and out of our state facilities. Our students range from preschool to high school level schooling and have a variety of backgrounds from various parts of Virginia. Our unique situation brings multiple grade levels into a single classroom which becomes a challenge for our core content teachers. Yet, our dedicated educators and leadership rise to the occasion and strive to give the best education possible to the students that enter our facilities.
State Operated Programs are defined in the Virginia Administrative Code (§ VAC 20-81-10) as, "programs that provide educational services to children and youth who reside in facilities according to the admissions policies and procedures of those facilities that are the responsibility of state boards, agencies, or institutions."
 State Operated Programs is also defined in the Code of Virginia at the following sites:
2.1 – 209.2 "Programs and teachers in regional detention homes, certain local detention homes and state agencies and institutions.
The Board of Education shall prepare and supervise the implementation in the regional detention homes and those local detention homes having teachers whose salaries were being funded by the Commonwealth on January 1, 1984, a program designed to educate and train the children detained in the homes. In addition, the Board shall supervise those programs of evaluation, education and training provided to school-age children by the Department of Health, the Department of Behavioral Health and Developmental Services, the children's teaching hospital associated with the Eastern Virginia Medical School, the Virginia Commonwealth University Health System Authority, the children's teaching hospital associated with the Virginia Commonwealth University Health System Authority, and the University of Virginia Hospitals pursuant to the Board's standards and regulations as required by § 22.1-7
The Board shall promulgate such rules and regulations as may be necessary to conform these programs with the applicable federal and state laws and regulations including, but not limited to, teacher/student ratios and special education requirements for children with disabilities. The education programs in the relevant detention homes and state agencies and institutions shall be approved by the Board and the Board shall prepare a budget for these educational programs which shall be solely supported by such general funds as are appropriated by the General Assembly for this purpose."
VAC 20-81-270 further states "regional and local juvenile detention homes. State funds for education services are appropriated to the Virginia Department of Education. (Virginia Appropriation Act, 34 CFR 300.705)